CLOSED. THANK YOU SO MUCH EVERYONE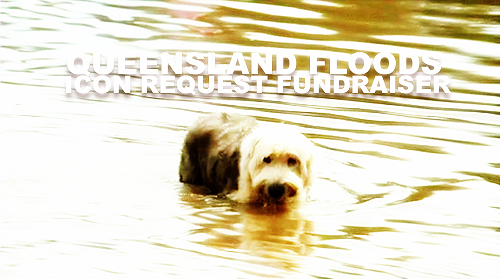 Most of you, I'm pretty sure most of you have heard of the Queensland Flood disaster by now. I myself, live in Brisbane Queensland but I haven't been affected in any way. How ever. Many other have and its tragic. I have put up my graphic making skills for auction over
HERE
. I have yet to do any volunteer work and feel super guilty, considering I did it after the tsunami disaster in '04. I have already donated money but still think it isn't enough. SO. I figured the least I could do is donate more money, that's where you guys help me out.


I WILL BE TAKING ICON REQUEST, AND EACH REQUEST I GET, I WILL DONATE $1AUS DOLLAR TO THE
QLD PRIMER'S FLOOD RELIEF FUND
. SOOO...GIVE ME 3 TO 5 INTEREST, (WITH IMAGES IF YOUR INTEREST ARE NOT MINE, OR IF THE INTEREST IS, SAY, AN ECCENTRIC ONE) AND I WILL PUMP OUT FIVE ICONS FOR YOU.

This will go on until 9 PM TOMORROW NIGHT BRISBANE, AUSTRALIA TIME. CHECK YOUR TIME ZONE
HERE
.

Well, whatcha waiting for? GET ON IT! GO GO GO GO!!!