After seeing I have over 3,000 songs in my iTunes, you'd think I would of come up with a fanmix earlier. This is my first ever fanmix and it isn't the greatest on the planet, but the songs remind me of The Phantom of The Opera or the E/C relationship. Most of the songs are quiet main stream, I'm a little main stream whore and proud of it thanks very much.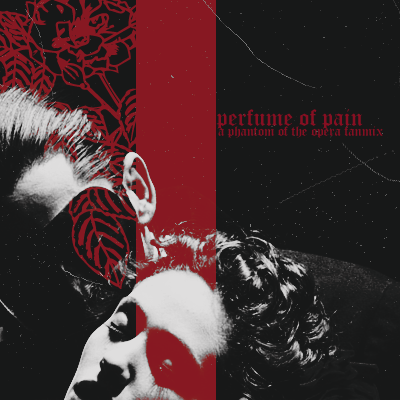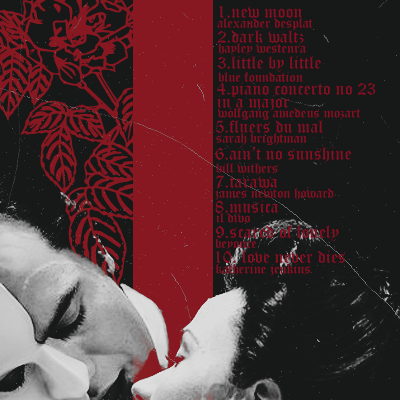 01.NEW MOON ~ Alexander Desplat
Instrumental
02.DARK WALTZ ~ Hayley Westenra
Dance me into the night
Underneath the full moon shining so bright
Turning me into the light

Time dancers whirling past
I gaze through the looking glass
And feel just beyond my grasp is heaven
03.Little by Little ~ Blue Foundation
He's my only saviour
Living in a stateless zone
Searching for an answer
Everywhere he goes

Widening circles, the surface a living, physical mirror
Connecting fire with the fever, reflecting, I'm a believer
Let the whispers enfold you, pull you nearer and nearer
Little by little
04.Piano Concerto No. 23 in A Major ~ Wolfgang Amadeus Mozart
Instrumental
05.Fleurs Du Mal ~ Sarah Brightman
Is it you I keep thinking of?
Should I feel like I do?
I've come to know that I miss your love
While I'm not missing you
We run
Til it's gone
Et les fleurs du mal
Won't let you be
You hold the key to an open door
Will I ever be free?
06.Ain't No Sunshine ~ Bill Withers
Ain't no sunshine when she's gone.
It's not warm when she's away.
Ain't no sunshine when she's gone
And she's always gone too long anytime she goes away.
07.Tarawa ~ James Newton Howard
Instrumental
08.Musica ~ Il Divo
Musica è il mio amore
Il primo e l'ultimo
Musica è il futuro
Ed il passato in me.

Restare senza note
Impossibile perchè
In queste stanze vuote
La musica mia c'è
09.Scared of Lonely ~ Beyonce
I'm scared of lonely
And I'm scared of being the only shadow I see along a wall
And I'm scared of the only heart beat I hear beating is my own
And I'm scared of being alone, I can't seem to breathe
When I am lost in this dream, I need you to hold me
I'm scared of lonely, I'm scared of lonely
10.Love Never Dies ~ Katherine Jenkins
Who knows when love begins?
Who knows what makes it start?
One day it's simply there,
Alive inside in your heart.
It slips into your thoughts,
It infiltrates your soul,
It takes you by surprise,
Then seizes full control.
Try to deny it,
And try to protest,
But love won't let you go,
Once you've been possessed.

Love never dies.
Love never falters.
Once it has spoken,
Love is yours.
Love never fades.
Love never alters.
Hearts may get broken,
Love endures...
Hearts may get broken,
Love endures.
Note: Yes, I'm aware that Love Never Dies in actually on the Love Never Dies the sequel to The Phantom of the Opera soundtrack. It's fits so much that couldn't not put it in!
DOWNLOAD